Learn to Avoid OSHA's Top 10 Cited Violations
Many employee vacations and scheduled time-off during the summer often means a slower pace settles in around the office; this is a great opportunity to re-acquaint your workforce on preventing injuries and illnesses that commonly occur in the workplace. Below is a list of OHSA's most frequently cited violations (as of 10/25/13).
Fall protection
Hazard communication
Scaffolding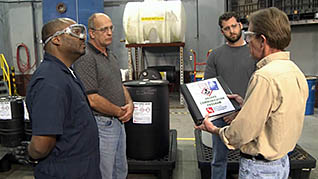 Respiratory protection
Electrical: Wiring
Powered industrial trucks
Ladders
Lockout/tagout
Electrical: systems design
Machine guarding
Mastery offers a wide-range of courses covering many of these topics and related topics.
Fall protection, scaffolding safety, and ladder safety are three big concerns for those in the construction industry. Mastery offers a variety of courses covering each of these topics, including many titles specifically designed for those working in construction environments.
Employees working with machinery need to be aware of safe machine guarding and lock out/tag out work practices. It is easy to become complacent about the hazards you work around on a daily basis. Unfortunately, complacency can lead to devastating accidents. Brush up on lock out and tag out procedures, as well as machine guarding to help ensure your safety and the safety of those around you.
Working with electricity presents many challenges and hazards. Everyone should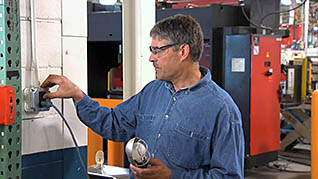 have some basic electrical safety training, even if you don't think your work requires it. Mastery offers training on electrical safety for general awareness, as well as on some of the more specific hazards an electrician needs to be prepared to deal with.
Hazard Communication is an important topic, particularly with OSHA's changes to the standard and the addition of the Globally Harmonized System of Classification and Labelling of Chemicals (GHS). Mastery has over 20 courses focusing on Hazard Communication and GHS requirements, as well as many course titles on specific chemical hazards.

Our jobs often require us to wear Personal Protective Equipment, such as a respirator, when working with hazardous materials. Mastery offers courses covering respirator use, as well as PPE for your eyes, ears, hands, head, etc.
When it comes to operating forklifts and other powered industrial trucks, Mastery has over 40 course titles to help you learn safe work practices. Whether you have to operate a forklift, powered pallet jack, or order picker, you can find a course to help you learn the safety procedures to practice.
Mastery's huge eLearning library can help you avoid OSHA's top ten safety violations.
For more information on these courses and our mobile friendly VOD3 platform, check out Mastery.com