Number 2 Cause of Accidental Deaths
Slips, trips and falls are responsible for 15% of ALL accidental deaths, according to the Occupational Safety & Health Administration (OSHA). OSHA also says only car accidents kill more people! This means anyone who works in area or industry with increased risk factors, like restaurants, have to be especially vigilant in reducing slip, trip and falls risks.
A common place for accidents of this nature to occur is the parking lot of any business especially those with leaked oil spots, bumps or uneven pavement. Even door entryway mats  not laying flat are an accident in waiting.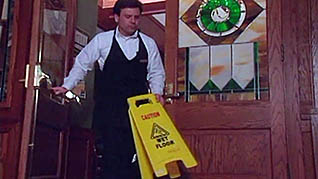 When we look at the restaurant industry there are  more circumstances employees must watch out for and take action to eliminate. Example, buffet areas get a lot of traffic which leads to a lot of spills that should be cleaned up immediately.  Restaurant patrons are not the only ones at risk, what about kitchen staff? Food preparation areas get hectic and messy quickly. Nevertheless, even high volume kitchen staff must pay attention to even small spills and have them cleaned immediately. Learn more about prevention with Slips, Trips and Falls: Restaurants.