Prepare for Safe Winter Driving
As we approach the winter season, it is imperative to begin preparing our vehicles for the rough weather to come.  Freezing temperatures, snow, sleet, ice and salt from the roads, all take a nasty toll on our vehicles.  "Winter Driving: When the Rules Change," provides advice and tips to ensure employees make it to their jobs safely.

This course relays advice for safe winter driving such as; preparing your vehicle, allowing extra time, visibility, driving techniques and winter survival.
 Getting prepared is one of the most important tips shared.  The key word in this is prepared, meaning take care of your vehicle before the winter weather comes.  Allow extra time for wiping your car off and, in case of poor visibility.  Keep a sturdy brush and scraper in your vehicle at all times so you are always ready for when the snow and ice hits.  As far as driving techniques go – drive more slowly, leave more space between you and the vehicles around you, and take caution in braking, accelerating and passing.  Finally, keep a winter survival kit in the trunk. This kit should include items like warm clothes, blanket, salt, first aid kit, shovel, jumper cables and a flashlight.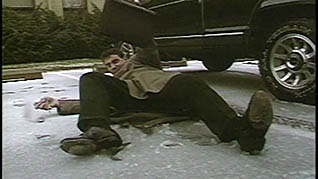 Keep your employees safe this winter season by sharing winter driving and safety videos with them.  A well-informed staff will lead to a safe and successful winter for the company.
Some other titles on winter safety include: